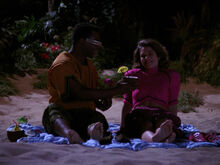 An infamous Tiki Drink, shared between Geordi La Forge and his doomed-from-the-start date companion, Christy Henshaw. Served in a halved coconut or coconut analog, this drink is sure to disquiet even the most nubile of ensigns.
The Food Replicator blog has created their own recipe of the Coco No-no. Is it accurate? Whatever.
First appearance: episode 53 "Slathered in Middler"