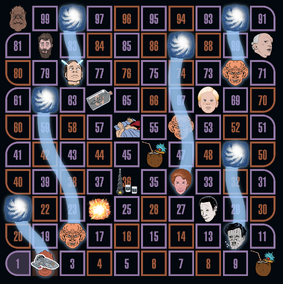 Deciding that Episode Vetoes were a bad idea for DS9, (both because they weren't familiar enough with the episodes and in practice from TNG), but still wanting a game element in the next episode section: Ben & Adam decided to introduce an element for random drunkenness.
Game of Buttholes
Edit
Starting with season two of DS9, Ben and Adam decided to change things up by employing a Chutes/Snakes and Ladders style board game with various "traps" resulting in possible podcast themes. At the end of each episode, the virtual die is rolled, and Ben and Adam advance as many spaces on the board, resulting in either a blank tile or an action tile to be carried out in the next episode's review. The original board ran from episodes 197-227, when they completed the run at space 100. A new board was designed starting on episode 228, which added some new spaces and changed the layout, and it ran until episode 258. A new reset began on episode 259, which added three new squares, which replaced a Traveler, Quark's Bar, and Banger space on the board.
The initial odds/calculations for each action tile being rolled were calculated by a very devoted FoD, and can be viewed here:
DS9 Board Game: How Likely Is Each Square?
The board game and accompanying key for the action tiles can be viewed here:
Game of Buttholes: The Will of the Prophets
The list of moves made on the game board so far can be found in the Deep Space Nine Episode List.
Special Episode Descriptions
Edit
Board Square Name
Effects
Occurrences
Quark's Bar
Drunkisode

Episodes 198, 218, 220, 244 (Just Ben), 247 (Adam's make-up Ep), 270, 294, 305, 332

CoCo NoNo
A special tiki-themed Drunkisode
Episodes 202, 290, 301, 328
Mornhammered
Power Hour
Starship Mine
Build a spaceship model while recording
Caught in the Nebula
No notes
Episode 254, 323
The Nth Degree
Extensive Research
Episode 252
Measure of a Man
We flip a coin and vehemently argue the pro/con of an episode
Episode 208, 324
The Naked Now
Roderick Style From the bathtub
Episode 283
Looking At Eachother During
One host has to fly to the other host's city and record in-person
Episode 215
Fuck It, We'll Do It Live!
Livestream the recording session

Episode 268

Episode 278 (technical difficulties)

The Traveler
Move the Runabout 5 spaces forward
Episode 242
Banger
Move the Runabout 5 spaced back
His Eyes Uncovered
The hosts must employ ten Tamarian-style metaphors during the episode
Episode 265
Kanar with Damar
Each host attempts to invent a cocktail that tastes like Kanar and the other host must try the recipe
Episode 315
Jay Gordon
Each host must make a piece of artwork representing the episode and share it with the other and post pictures
Older Versions
Edit
Season 1 Drunkisode Game
Edit
The first season of Ben and Adam's coverage of Deep Space Nine included (about ten episodes in), Ben rolling a virtual die to see if they would have to have a drunk episode to follow. Since there were 15 remaining episodes when they began, the "winning" roll would be a one out of fifteen (something they achieved once, on the first try).
Community content is available under
CC-BY-SA
unless otherwise noted.