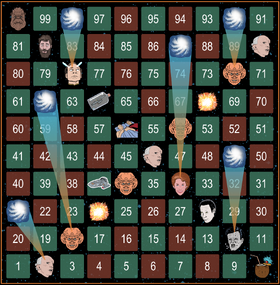 Season 1 Drunkisode Game
Edit
The first season of Ben and Adam's coverage of Deep Space Nine included (about ten episodes in), Ben rolling a virtual die to see if they would have to have a drunk episode to follow. Since there were 15 remaining episodes when they began, the "winning" roll would be a one out of fifteen (something they achieved once, on the first try).
Game of Buttholes
Edit
Starting with season two of DS9, Ben and Adam decided to change things up by employing a Chutes/Snakes and Ladders style board game with various "traps" resulting in possible podcast themes. At the end of each episode, the virtual die is rolled, and Ben and Adam advance as many spaces on the board, resulting in either a blank tile or an action tile to be carried out in the next episode's review. The original board ran from episodes 197-227, when they completed the run at space 100. A new board was designed starting on episode 228, which added some new spaces and changed the layout.
The odds/calculations for each action tile being rolled were calculated by a very devoted FoD, and can be viewed here:
DS9 Board Game: How Likely Is Each Square?
The board game and accompanying key for the action tiles can be viewed here:
Game of Buttholes: The Will of the Prophets
The list of moves made on the game board so far can be found in the Deep Space Nine Episode List.
Special Episode Descriptions
Edit
| | | |
| --- | --- | --- |
| Board Square Name | Effects | Occurrences |
| Quark's Bar | Drunkisode | Episode 198, Episode 218, Episode 220 |
| CoCo NoNo | A special tiki-themed Drunkisode | Episode 202 |
| Mornhammered | Power Hour | Episode 227 |
| Starship Mine | Build a spaceship model while recording | |
| Caught in the Nebula | No notes | |
| The Nth Degree | Extensive Research | Episode 252 |
| Measure of a Man | We flip a coin and vehemently argue the pro/con of an episode | Episode 208 |
| The Naked Now | Roderick Style From the bathtub | |
| Looking At Eachother During | One host has to fly to the other host's city and record in-person | Episode 215 |
| Fuck It, We'll Do It Live! | Livestream the recording session | |
| The Traveler | Move the Runabout 5 spaces forward | Episode 242 |
| Banger | Move the Runabout 5 spaced back | |